Planned litters
We expect puppies! In the middle of January 2019, the awaited puppies of our Ronja – Yukki Hill WAY AHEAD will come to the world. The father is a young, beautiful dog from Scotland - Liric Fusilier with Shillay. We still accept reservations for puppies from this unique combination, which is the result of the work of the best breeders in the world.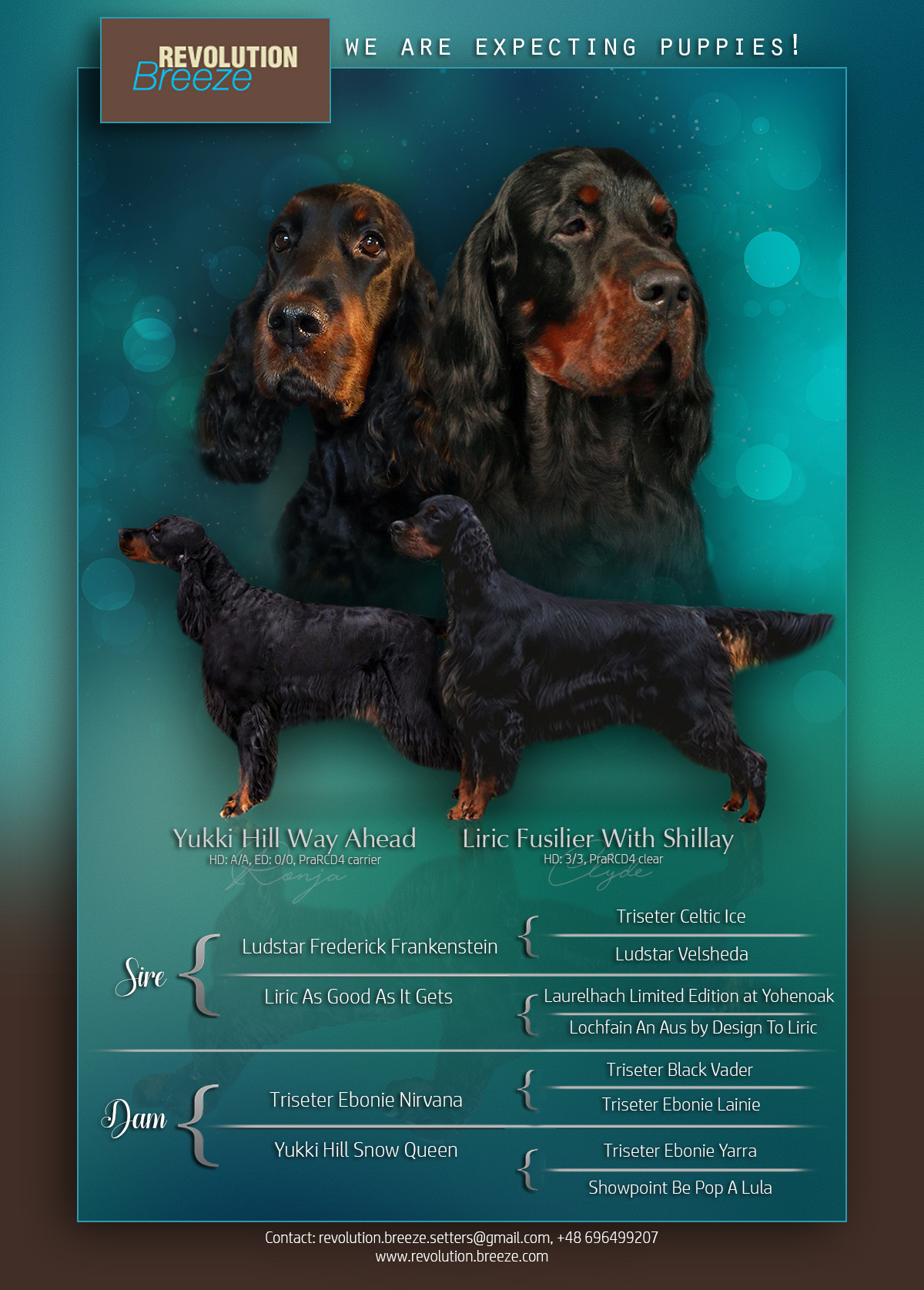 We were searching for father of Ronja's kids for a very long time. This choice is the result of many years of thinking about the future of the breed. Clyde has everything we could ever dream for Ronja. The pedigree of puppies combines English lines with old, good Australian lines. Both sides fit are like two halves of a puzzle.
Clyde was born in one of the best English kennels and he is very successful on English rings. He receives fantastic descriptions from breed specialists and makes a huge impression. But the most important is that he is a dog with a great character, a real Gordon Setter, with whom it is pleasant to share life. Of course, Clyde has healthy elbows and hips and is free of Pra rcd4 clear

More about Clyde: http://shillaygordonsetters.co.uk/?page_id=7
Pedigree: https://www.champdogs.co.uk/dog/69148
Clyde's father is a dog that does not need to be introduced to any lover of the breed. Ludstar Frederic Frankenstein, who is one of the most famous contemporary Gordon Setters- this is a dog who after a amazing career on the continent, where he won everything that was to be won (two-time World Winner, Best of Breed on Crufts' 18) continues his career in England.
Ronja is a unique bitch with great charisma and a wonderful, stable character. She is the undisputed queen of our house. She has a wonderful head with an amazing, sweet expression. She is just a dog that happens once in a lifetime.

More about Ronja: http://www.revolution-breeze.com/en/dogs/ronja/
Ronja's father is the legendary dog ​​from Australia - Triseter Ebonie Nirvana. A dog that just stole my heart many years ago and the fact that his daughter lives in my house is the fulfillment of my dreams. Nirvana won the Westminster show, and when he retired to the show ring, he began to fulfill another mission - he became a therapist dog.
We have great hopes associated with these little ones. We are sure that they will be great dogs. Deciding on a puppy from our kennel, you must be aware that we are giving you not only the effect of our dreams, deep reflections about the breed, but also the effect of many years of work of the best breeders from around the world. We stay in constant contact with the owners of our puppies, we offer help and advice, but we also have a lot of requirements for them. We care for the best homes for our kids - homes where they will be loved, understood and happy!
Previous litters
S - Litter

On 4th of February 2017 our Greta gave birth to 13 healthy puppies. We said hello to nine handsome boys and four sweet girls. They are all at new families and everyday they give a lot of joy to new owners. Most of them will be shown at dog shows.

Girls:
Revolution Breeze SHOT OF FINLANDIA – Pepper stayed with us. She lives with family of Jagoda Cook who is her co-owner
Revolution Breeze SMASHING PUMPKIN – Dorka lives in Czech Republic with Klara and her family
Revolution Breeze SAVE THE REBELLION – Kapri lives in Poland, near Opole with Robert, Natalia and their family
Revolution Breeze SPUMANTE SWEET – Sally lives in Germany with Friedhelm, Susanne and their sons

Boys:
Revolution Breeze SHECK EXLEY – Sheck stayed with us. Sheck lives with his co-owner Natalia Paradowska and her family
Revolution Breeze STARKILLER – Leon went to Finland. He lives with his dad, Sari and her family
Revolution Breeze STORMTROOPER TO RELATIVITY – Roque went to USA when he lives in California with Denise and her family
Revolution Breeze SAW GERRERA – Franek lives in Poland, in Nadolice with Agnieszka and Filip
Revolution Breeze SPARTACUS – Spartaś lives in Poland, in Kamieniec with Kasia and her family
Revolution Breeze SIRIUS BLACK – Sirius lives with Ania in Wrocław
Revolution Breeze STAR OF RED DOBLO – Gromit lives in Poland, in Poznan with Ewa, Michal, Fionaand Fiodor
Revolution Breeze SKYWALKER – Limo lives in Lithuania with Julija and her family
Revolution Breeze SUPER ROYAL BABY – George lives in Wroclaw with Marcela & Dawid

After months of searching we chose a father of Greta's first puppies. It's a gorgeous dog with very original pedigree – Pablo. From father's side his pedigree is based on lines from US. The grandfather of puppies is the American dog SPRING RUN AND GILNOCKIE FEAST YOUR EYES, whose father is my beloved Carson - Firethorn SANDPIPER AND EASY ON THE EYES. Mother of Pablo is lovely Lola - Showpoint DO IT AGAIN - a girl with great personality.
Pablo is completely health checked, healthy, with great temperament typical for this breed and fantastic exterior.
He looks like a real male with very masculine head expression. He has perfect top line and very good quality of coat.
More about Pablo: www.silentnorth.fi/pablo.htm
Pablo in breeding database: http://jalostus.kennelliitto.fi/frmKoira.aspx?RekNo=FI18236%2F11&R=6
Pablo (Silent North EYECON)
Payton (SPRING RUN AND GILNOCKIE FEAST YOUR EYES) i Lola (Showpoint DO IT AGAIN)
Carson (FIRETHORN AND SANDPIPER EASY ON THE EYES)
Greta has great show achievements. She is appreciated by judges from all over the world and often wins even on big shows. Her father is the brother of our Ronja - Mak (Yukki Hill WIZARD OF GORDON CASTLE) and her mother is charming Ginger (Yukki Hill MY FAIR LADY). Greta's grandfather is the legendary Triseter Ebonie NIRVANA, which for me is the definition of Gordon and her grandmother is great girl Feline (Yukki Hill SNOW QUEEN). Another grandmother of Greta is a very titled Elly (showpoint BE POP A LULA) who is still in great shape and health condition, and her grandfather is very famous dog Triseter Ebonie ZEUS.

More about Greta you can read here: revolution-breeze.com/psy/greta/
Greta (Yukki Hill TO KISS AND TO HUG)
Mak (Yukki Hill WIZARD OF GORDON CASTLE) i Ginger (Yukki Hill MY FAIR LADY)
Nirvana (Triseter EBONIE NIRVANA) i Feline (Yukki Hill SNOW QUEEN)
Zeus (Triseter EBONIE ZEUS) i Elly (Showpoint BE POP A LULA)
This pedigree combines American lines new for this part of Europe with the classic Australian pedigree of our Greta by the strong traditional breeding line. We dreamed of this combination. Pablo made a big impression on us. This is exactly the dog, what we wanted. In this pedigree we have the winners of European and World dog shows and also of the Westminster.

We also had the opportunity to meet Pablo's family and Greta's family, and we can be sure that they are happy, mentally balanced, great dogs.
Puppies' pedigree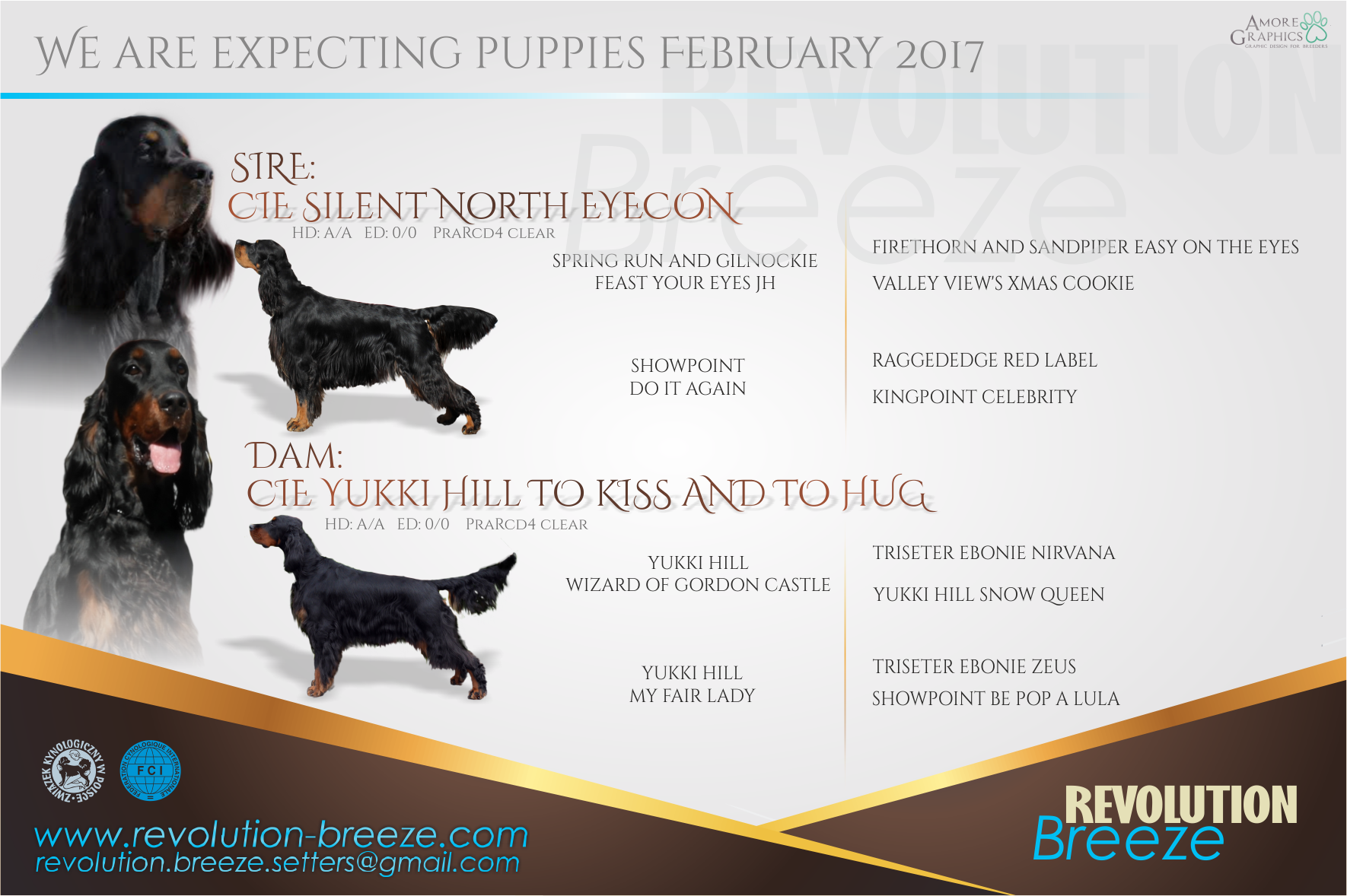 Both parents are completely health checked – HD A/A, ED 0/0 and pra rcd4 clear.

Both parents are first of all family dogs and best friends. They live at home, go on walks, run without leash and take part in sport activities. They are also travelers and have no stress at new places and in new situations. They live with others dogs and have great relationship with the rest of pack. They have no problem with other dogs but they really loves people.

When you decide to have a puppy after this special girl and special boy, you should remember that her puppies probably will also inherit their party character. We strongly believe that their kids will bring to new owners a lot of joy and they will for sure test their patience and sense of humor.

We are extremely proud that at our home we can raise puppies which are the result of many years of work of the best breeders in the world. For our kids from dreams, we are looking for very good, special homes.